San Francisco Office Market: A Tale of Two Cities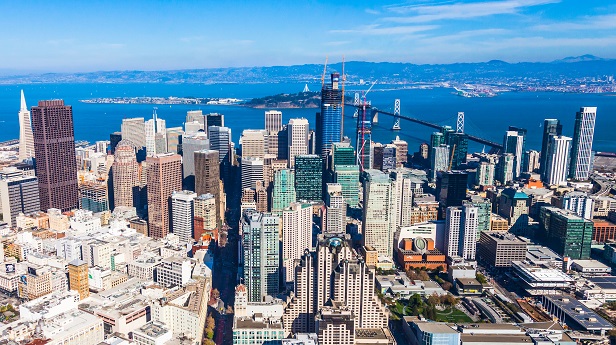 The office market in San Francisco is starting to look like a tale of two cities: A thriving life sciences sector is filling offices in South San Francisco, while the city's midtown is struggling to bring back workers as the pandemic subsides.
Block Inc., the payment processing company formerly known as Square, revealed this week that it will not be renewing its lease next year for 470K SF at 1455 Market St. after it transitions to a hand model -work "more distributed", according to a report in the San Francisco Chronicle.
Block said in a statement this week that it had given the majority of its employees the option to work from home, reiterating a previous notification that the company would no longer have a designated headquarters, removing that designation from its offices. at 1455 Market.
The fintech player said in his statement that he remains committed to the Bay Area and will retain another Market Street location he acquired with the purchase of e-commerce company AfterPay, as well as smaller spaces on Mission St. and in Oakland.
Kastle Systems' weekly office occupancy report for 10 cities, based on its pass-through surveys, on June 8, San Francisco had an occupancy rate of 35%, the lowest among the largest city ​​markets.
The San Francisco Business Times reported last week that cloud communications player Twilio plans to consolidate its office space in the Financial District as part of a transition to a "remote-first" business. PayPal Holdings is closing its Market St. location, according to reports.
The office picture is much brighter in South San Francisco, where a booming life sciences sector is attracting big occupiers.
California-based Eikon Therapeutics announced this week that it has signed a long-term lease with Alexandria Real Estate Equities for 285K SF of office and lab space for its new headquarters, which will anchor a new life sciences campus underway. development by Alexandria to Millbrae.
"We look forward to working with Alexandria to create an inspiring space where our multidisciplinary teams can even more effectively pursue our mission to provide therapies that will improve and extend lives," Eikon CEO Roger Perlmutter said in a statement.
When complete, the Alexandria Center for Life Science-Millbrae campus will consist of four buildings comprising approximately 637K SF of office and laboratory space, as well as a 16K SF amenity center, adjacent to the Millbrae Transit Center, serviced by the BART light rail system as well as Caltrain.
The new campus will be built with respect for Alexandria's "stellar reputation for operational excellence in our critical laboratory complex infrastructure," said Terezia Nemeth, executive vice president of the Alexandria Bay Area.