Orlando office market activity fueled by flight to quality and tech industry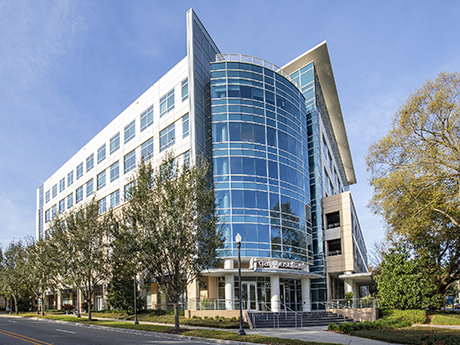 The Orlando office market is finally seeing positive absorption in all major submarkets. An impressive second quarter saw 122,423 square feet of positive absorption, bringing the total for the first half of the year to 156,778 square feet.
As businesses made decisions about returning to the office, the Orlando market saw increased activity with many large long-term leases signed, mostly fueled by small local users and business relocations from other markets. The relocation and expansion of Kimley-Horn to 60,000 square feet in downtown Orlando marked one of the largest transactions of the past five years.
While still up 20 basis points year over year, the total vacancy rate saw its first decline in the past four quarters. The vacancy rate held steady at 13.3% from the third quarter of 2021 until it fell 30 basis points this quarter to 13%. The primary driver of the decline was the removal or leasing of vacant sublease space. Although companies are still looking for a sublease route for their office space, we believe more space will be returned in the short term.
We're seeing an increased trend in the flight to quality, where enterprise users are focusing their attention on submarkets and assets that provide higher quality workplaces and better experiences. Employers' desire to focus on creating a quality work environment is not only driven by their desire for employees to return to the office, but also to increase talent recruitment and retention.
The office market outlook is currently positive for the remainder of 2022, with over 450,000 square feet of tenants expected to be occupied over the next two quarters. We are seeing increased demand for office space from out-of-market users, especially those with a strong need for labor with a technology or engineering background. The majority seek to hire college graduates from the University of Central Florida, as well as other nearby colleges and universities.
According to the latest CBRE report Tech Talent Report, Orlando produced 13,449 tech graduates between 2016 and 2021, and Orlando's tech workforce grew 17%, creating 6,180 jobs. This results in a plentiful supply of tech talent that becomes available every year for workforce growth.
The report defines tech talent as 20 key technology occupations, such as software engineers and systems and data managers, across industries. Overall, Orlando is among the biggest gainers in this year's report, moving up three spots from last year's ranking at No. 29.
The market's tech talent labor pool is the third-largest among small tech markets, which are defined as markets with fewer than 50,000 tech workers, with 42,860 workers accounting for 3.7% of the workforce. total metro employment in 2021.
In general, we are cautiously optimistic that the Orlando office market will fully recover and we will again see vacancies approach pre-pandemic levels.
However, due to high construction costs, increasing tenant improvement budgets force office users to demand higher allowances from landlords, putting upward pressure on demand and strike rates. .
Average asking rents edged up 0.2% in the quarter, bringing the year-over-year increase to 1.5% and ending the quarter at $26.22 per square foot. We believe that rental growth will continue to be a trend in the near future.
— By Andrei Savitski, Senior Vice President, CBRE. This article originally appeared in the August 2022 issue of Southeast real estate company.