A migration destination: Charlotte's office market continues to evolve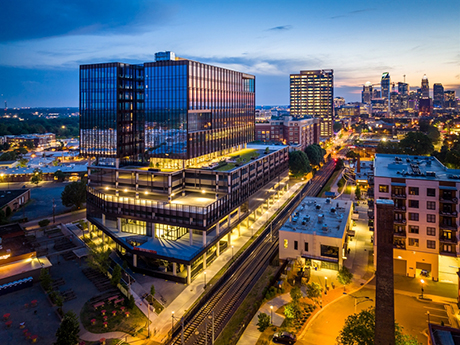 By Chase Monroe, Carolinas Market Director and Charlotte Brokerage Manager, and Chris Schaaf, Executive Managing Director of Tenant Representation, JLL
Nearly two years into the pandemic, the Charlotte office market is showing strong signs of recovery as economic momentum strengthens. Last year, the Queen City paved the way for growth with 4.9 million square feet of office space delivered from pre-pandemic projects, more than a million square feet more than any another metro for deliveries that took place in 2021.
Market-wide pre-letting also exceeded 60% and nearly 2.1 million square feet of office space was under construction. As 2022 dawned, the market continued to move forward as large occupiers began to return to the office and rental activity began to increase across the region. And long-awaited projects, such as Legacy Union, 110 East and The Station have been launched.
According to the Urban Land Institute's 2021 annual report, Charlotte ranked No. 6 among the hottest real estate markets in the United States, with developers and investors betting big on cities in the Sun Belt. Considered an 18-hour city of attraction by the Emerging Trends in Real Estate investigation, people and businesses are flocking to Charlotte, the so-called "migration destination".
Thanks to strong economic fundamentals that include growing levels of population and employment growth, nearly 4,700 net new jobs were created in the region in the first quarter alone, along with nearly 2.2 billion dollars in announced capital investments.
Charlotte's South End neighborhood continues to lead the market in terms of rental and construction activity, much of which is driven by new product delivery. Notable projects include Queensbridge Collective, a 41-story, 810,500 square foot office building, and 110 East, a 360,000 square foot office building which is expected to be delivered in the fourth quarter of 2024.
So far in 2022, nearly 60% of the more than 4.1 million square feet of office space under construction in Charlotte is in the South End or Uptown. Of buildings delivered in the past two years, 79% of newly delivered space in Uptown and South End has been leased, and 68.3% of new space in all Central Business District submarkets has been leased.
Looking further into the market, rental activity nearly doubled in the first quarter compared to the fourth quarter of 2021 as new products began to control the movement of the market. Several major announcements contributed to this, but the main source of rental activity in the first quarter was Vantage South End. The 635,000 square foot mixed-use development added five floors of leases totaling more than 130,000 square feet in the first quarter alone.
The flight to quality continues
As large occupiers return to the office after years of working remotely, many are reassessing their real estate needs and footprints. As a result, many top employers continue to seek out high-quality new office buildings located in amenity-rich areas. The flight to quality trend will continue to amplify a widening gap between office building categories.
JLL research shows that the flight to quality is driven by oversized rentals in new construction. In Charlotte's CBD, completions over the past two years are nearly 70% rented as the flight to new, highly appointed offices remains unwavering.
One example is the 742,000 square foot Ally Charlotte Center, which was delivered last year and is fully occupied by Ally Financial's team of 2,800 employees. The banker plans to create 1,000 jobs in the coming years. Conveniently located between the vibrant Uptown and South End neighborhoods, Ally Charlotte Center offers convenient access to the area's most popular dining, retail and entertainment options.
As new builds bring trophies and Class A products to market, older buildings clearly have an opportunity to offer discounted rates and increase tenant diversity in the metro area. It's also important to note that many of the existing office assets in Uptown have undergone renovations over the past five years, further positioning the area for success compared to other metropolitan submarkets.
Top tech city
A recent study by CompTIA found Charlotte to be the 6th largest tech city in the nation, with fintech continuing to drive market activity. Investments from fintech giants such as Credit Karma, USAA and Robinhood are driving population growth and further development in the region as investors are drawn to Charlotte's strong fundamentals. According to JLL's Discover Charlotte report, there was a 31.1% increase in the tech talent workforce from 2016 to 2020 and a 120% growth in tech companies in Charlotte from 2010 to 2020.
Last year, the JLL team represented USAA in its six-story, approximately 93,000 square foot lease at The Square at South End – an investment that created nearly 750 new jobs. Similarly, Credit Karma unveiled its new East Coast headquarters in Ballantyne last month, adding 600 jobs and investing $13 million in renovations. This included adding approximately 100,000 square feet to its Ballantyne area office.
These market leaders will continue to attract foreign companies looking to expand into cities with a concentration of tech talent, a low cost of living, and a business-friendly tax climate. In fact, Charlotte is home to over 60 fintech companies, positioning the city as an influential and leading force in the industry.
Ready for growth
Already landing as the 15th largest city in the country with a current population of 3.1 million, the ever-growing queen city expects to see its population increase by 50% by 2050. Despite the lingering effects of the pandemic, innovative and talent-rich cities like Charlotte continue to thrive.
The market's pool of highly skilled talent, desirable climate, affordability and concentration of top employers will continue to make it a great place to live and work for generations to come.
This article originally appeared in the June 2022 issue of Southeast real estate company.